4 Display InSight System Offers Operators a New Integrated Flight Deck Solution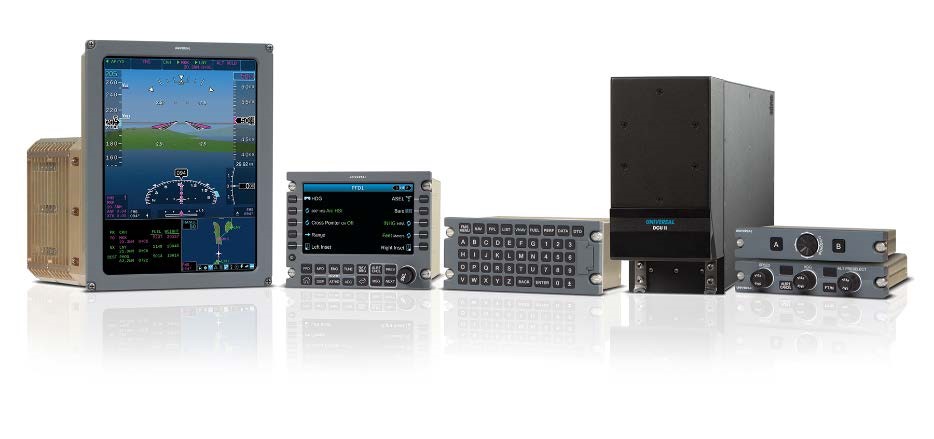 Sugar Grove, IL– Universal Avionics Authorized Dealer, Chicago Jet Group, received an FAA Supplemental Type Certification (STC) Number for an InSight Display System flight deck upgrade on a Dassault Falcon 900 aircraft. The STC covers the installation of the InSight Display System with 4 EFI-1040 Displays, complimented with other additional flight deck enhancements.
"The first step was the Falcon 50 InSight program at Chicago Jet Group, which is near completion." said Mike Mitera, President of Chicago Jet Group. "As promised, Chicago Jet is moving forward with the Falcon 900 InSight program in response to the overwhelming number of requests from current Falcon 900 operators, including perspective buyers, who are looking for a cost-effective solution that will meet their needs for the 2020 mandates and beyond. This is the most complete and comprehensive solution on the market," he added. "The value of this STC is unprecedented. We have created a NextGen solution for the Falcon 900 operators who up, until now, had limited options that were very pricy for the Falcon 900. We are moving forward with a 4-display option at this time in order to get the InSight cockpit upgrade STC approved and available to the operators. We are working on a number of possible options to replace the factory original engine indications that would be presented on a 5th display. We will have a demo of the Falcon 900 InSight cockpit with the 5-display set up available for customers at our booth 3378 in Orlando for the NBAA convention."
The InSight system is designed as an integrated flight deck solution, featuring embedded Next Generation enhanced synthetic vision with advanced mapping capability, electronic charts, frequency management, and broadcast weather. Line Replaceable Units (LRU) are minimized, reducing weight while simplifying wiring and installation. InSight retains the ability to interface with a large number of federated components such as attitude/heading sensors, air data computers, radars, traffic systems, radios, and autopilots.
Lower operating and maintenance costs, enhanced safety, situational awareness, and functionality for pilots are all possible with an InSight upgrade.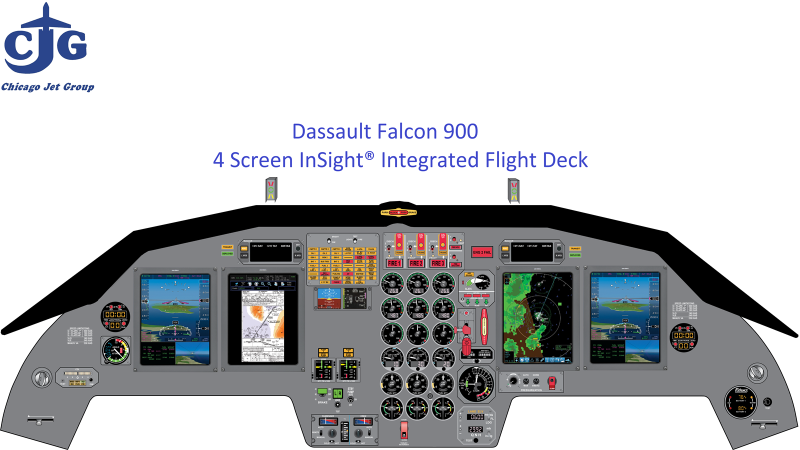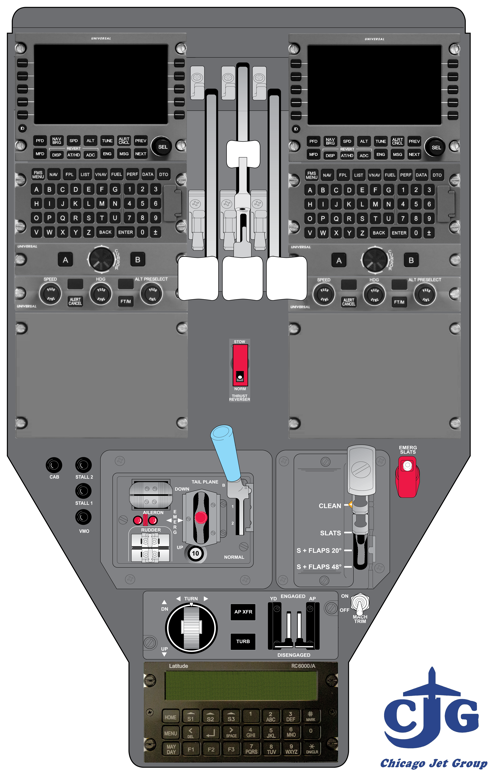 In addition, this upgrade will include new digital audio control panels, LED glare-shield lighting, and LED back lighting for the overhead panel, as well as ATC Safety Voice Approval. This upgrade will not affect existing TCAS 7.1 or ADS-B upgrades and will not require modification to the existing auto pilot system.
For more information, visit Universal Avionics booth 2268 during NBAA-BACE 2018 while exhibit halls are open. In addition, Chicago Jet Group will be featuring a Falcon 50 and Falcon 900 InSight 4-Display System demonstration rig in their booth N3378 throughout the convention.
***
About Universal Avionics Universal Avionics is a leading manufacturer of innovative avionics systems offered as retrofit and forward-fit solutions for the largest diversification of aircraft types in the industry. Markets served include Business, Helicopter, Airline (regional/commercial), Government/Military, Special Missions, and OEM. To learn more about Universal Avionics, visit www.uasc.com/company/about.
About Chicago Jet Group Chicago Jet Group operates an FAA Class 4 Part 145 Repair Station with EASA approval, focusing on the installation and certification of NextGen avionics technology in Part 25 aircraft, in addition to providing airframe and engine maintenance. Contact Chicago Jet Group at www.chicagojetgroup.com; email: info@chicagojetgroup.com; Phone: 630-466-3600.