Charter Services
Chicago Jet Group is a premier private aircraft charter company headquartered in the Midwest with the lofty goal of providing the highest level of service in the industry. When you use our corporate aircraft charter services, your flight will be convenient, relaxing, safe and enjoyable, the way a flight should be.
Our charter services aircraft are based in Chicago, with availability 24 hours a day, 7 days a week from your departure location. Our professional staff is available to assist you in booking a private jet charter that suits your travel needs and budgetary requirements, with an itinerary developed to make your trip pleasurable and stress-free.
Corporate Aircraft Charter Services
Whether you require Chicago Jet Group's business flight charter services for corporate travel or a private jet flight for personal air travel, tell us what you have in mind and let us do the rest. It is our job, and we are good at it.
Call us at 866-JET-TRAVEL (866-538-8728) today to speak to one of our friendly and knowledgeable aircraft charter services professionals. Or contact us by email at charter@cjg.aero.
Chicago Jet Group is a FAA Part 135 charter services operator, certificate X42A211L, with worldwide operations approval.
---
Charter Services For Your Corporate Aircraft
Chicago Jet Group can place your aircraft on our FAA Part 135 charter certificate X42A211L that is capable of generating supplemental income for your aircraft and may also reduce your tax burden, while you still maintain full control of your aircraft.
When you need your aircraft, it is there for you. When you're not flying, a Chicago Jet Group charter services customer is providing you with a source of revenue to offset some of those costs associated with owning your own aircraft.
Call us at 866-JET-TRAVEL (866-538-8728) now and talk to one of our knowledgeable aircraft charter services representatives. Or contact us by email at charter@cjg.aero.
---
AVAILABLE CHARTER JETS
Chicago Jet Group commits to providing you with the highest level of service with your safety and security at the forefront of our operation. Your trips are operated under Part 135 of the Federal Aviation Regulations under Certificate X42A211L. Our aircraft are maintained to the highest standards at our FAA approved Part 145 Repair Station (Certificate X42R211L). Our flight crews are simulator trained and undergo annual and semi-annual recurrent training at Flight Safety International or CAE Simuflight.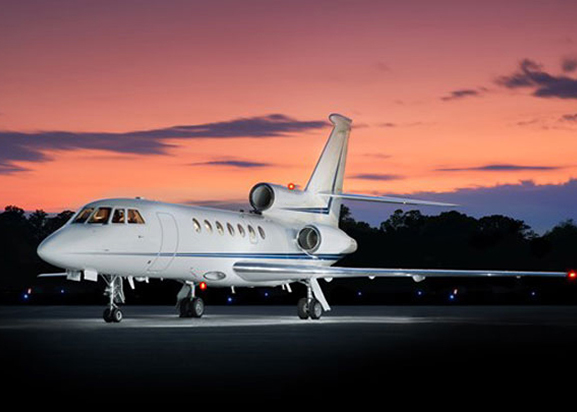 Premium Mid Cabin Jets
If you are looking for an aircraft with a spacious stand-up cabin with non-stop, coast to coast trans-continental range, a fully enclosed lavatory and full galley, then our premium mid-cabin jets may be the right fit for your trip. These are larger than traditional mid cabin jets and can generally accommodate up to 9 passengers comfortably. WIFI is available on request, please let us know if this is a requirement on your trips.
COMPARABLE AIRCRAFT INCLUDE:
Dassault Falcon 50/50EX, Cessna Citation X/X+, Citation Sovereign, Citation Latitude, and the Hawker 1000
TYPICAL NON-STOP TRIPS WITH UP TO 9 PASSENGERS:
New York City to Los Angeles
Miami to Las Vegas
Los Angeles to Boston or Miami
Chicago to London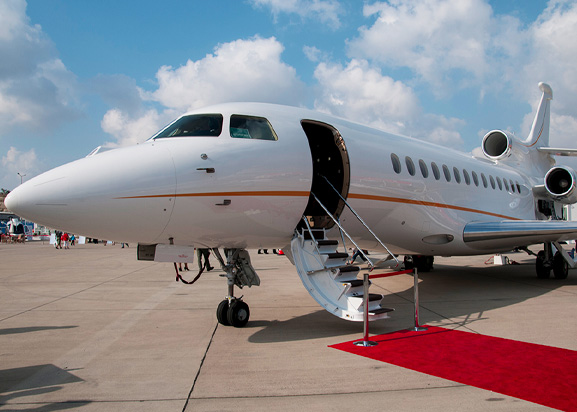 Large Cabin Jets
Our large cabin jets are configured to accommodate 10 to 14 passengers, divided into two to three sections providing privacy and additional comfort. These cabins sleep up to five passengers for long-haul flights and our cabin crew will ensure all meals and convenience items are presented and customized to your tastes. These aircraft are ideal when traveling regionally or on ultra-long-range trips of up to 14 hours.
COMPARABLE AIRCRAFT INCLUDE:
Falcon 900/900EX,2000 Challenger 601/604/605/650, Embraer Legacy 600/650, Falcon, Gulfstream III/IV/IVSP
TYPICAL NON-STOP TRIPS WITH UP TO 14 PASSENGERS:
New York City to London, UK or Paris, FR
Miami to Sao, Paolo, BR
Boston to Anchorage